Here, you will find a variety of employment resources, entrepreneurship opportunities and scholarships.
Youth Employment Services (Y.E.S)
Youth Employment Services (YES)  is the Employment Champion for Youth. Established in 1968, YES has the experience and expertise to deliver programs and services helping youth find a job or start a business.  Specializing in career counselling and job placement YES is 85% successful in finding jobs, training, education or business outcomes for youth. 
YES offers a diverse range of programs and services pertaining to employment. Below are a few of their services. All information can be obtained at www.yes.on.ca
Employment Service, Resources & Information
Employment Service (ES) is a program to help people find and keep jobs.  Depending on the type and level of services required, the program has different components for participants.
Assisted Service and Employer Training Subsidies

Depending on the particular employment needs and career goals of participants, ES staff determine whether more individualized assistance and support are required. Participants may be eligible for on-the-job training and/or work experience support.
Resources & Information (RI)
Services include:  professional staff to assist in job search strategies, individual help with resumes, cover letters, interviews, job board with full and part-time postings, as well as volunteer opportunities, career information, training opportunities, and local labour market information. The RI service labs also include: free use of computers with Internet access, Wi-Fi, faxes, photocopier, and phones.
Extended hours every Wednesday until 6:00 pm
YES also offers a variety of job search and life skills workshops, check out our monthly workshop calendar for workshops to attend.
YES Head Office
555 Richmond St. W. Suite 711
Toronto, ON M5V 3B1
416-504-5516
YES Employment Centre
1610 Bloor Street West
Toronto, ON M6P 1A7
416-535-8448
To become a YES client, call 416-504-5516 or  It's FREE!
For more inquiries, please contact:
Nicole Cousins
Marketing and Outreach Coordinator( Youth Employment Services YES)
Tel: 416-504-5516 x 286
Fax: 416-504-4654


BizStart Entrepreneurship

Operating from the Youth Business Centre, BizStart is a fulltime, six months entrepreneurship training program that assists youth to start a business.
Training is offered in marketing, business planning, management, web design and other business related topics. Youth are matched with a mentor from the business community for ongoing support and advice.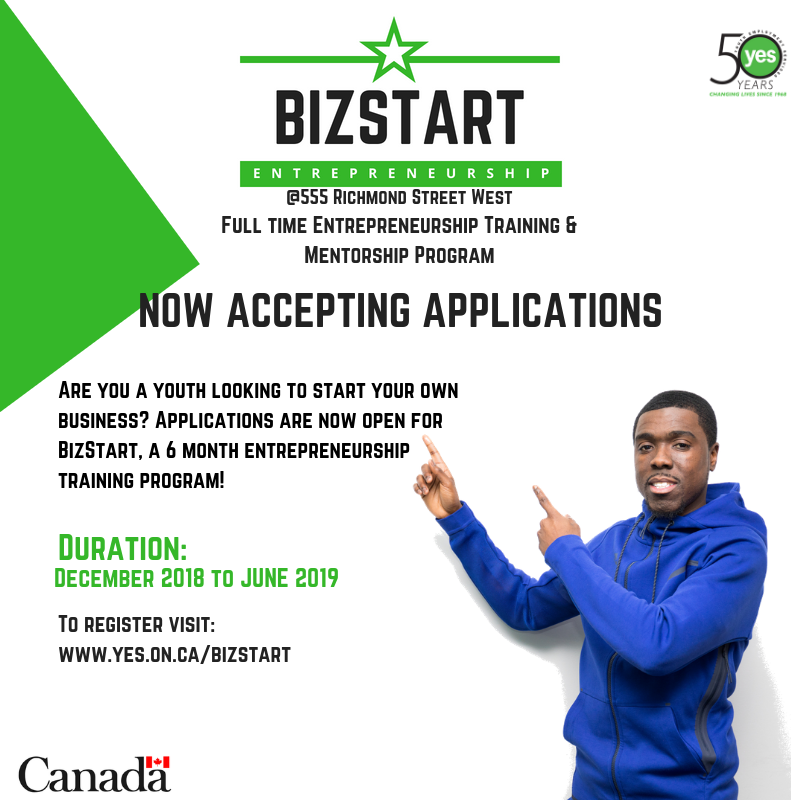 For more information on how to apply and to download an application form, click here!
ONE OF A KIND RESEARCH OPPORTUNITY
Are you interested in research? Do you want to be part of change? This is the perfect opportunity for you. The Black Youth Research Project (BYRP) is recruiting PROJECT AMBASSADORS to join their team! Check out the flyer below for more details!
For more info contact the Progrm coordinator  

Breanna Phillip
Tel: : 416-438-3697 ext 21118
Email: byrpinfo@emys.on.ca